Faqs
Junk Removal McAllen, TX FAQS
Frequently Asked Questions about Junk Removal in McAllen, TX
On man's collection is another man's junk. There are some major differences between Junk, Clutter, Large Collections, and Hoarding. It's important to look at the items as someone's property. It's not all trash. Clutter, collections and hoarding can be items that someone wants to keep. They have a connection to the items and would rather see their belongings treated with respect and care than as garbage. Junk, on the other hand is simply items which would be considered trash. A major issue, and one of the main causes of unmanaged piles of items, is clutter and junk are often found in the same space and over time the pile grows to an unmanageable sizes. So how do we tackle these types of projects? What's the difference in the process for junk removal vs. clutter or hoarding clean up.
Types of Junk / Clutter Removal Projects
Yard debris
Construction or project debris
Damaged clutter
Sentimental clutter
Unwanted clutter
Unmanaged trash heaps
Unfinished projects
Old or broken furniture
Old or broken appliances or equipment
Large broken items
Heavy or oversized household items
Over packed sharage
Over packed attics/basements
So what type of clutter do you have? The easiest way to figure it out is to look at the items you are thinking of removing. If you can't see anything you would like to keep than chances are you have a junk problem. If, while you are looking at the pile of items, you see a majority of the stuff has value to you, than you have a clutter problem. On occasion you will find there is a mixture of junk and clutter. In these cases it is wise to watch our team while they are removing the junk so you have a chance to have the items you want to keep set aside for later organizing. If when you want to remove clutter, your first thoughts are on what you might want to keep it probably has some value to you even if it's just sentimental and would probably be clutter or a mix of clutter and junk. The next step is to decide where you will be storing the items before, during, and after the removal to complete. Even if it's junk you don't want to leave it exposed to weather as to not attract creatures, vermin, or bugs. Keeping the items in a clean dry area is important to prevent the growth of mold.
You may have a hoarding issue if you are having trouble finding value in the items and also not able to let them be removed. Hoarding is often described a a condition where people are unable to let things go regardless of the monetary or sentimental value. There is often difficult for people to identify whether they have a collection or a hoarding problem. Collecting is quite different than hoarding, one of the ways to distinguish between hoarding and collecting is organization, display, condition, and placement of the items. If the items are thrown about haphazardly or hidden in a basement, attic, shed, under a large pile of unwanted items, or lost all together the collection is more than likely junk and should be considered for removal. Items found in disarray or a damaged state and in large quantities more resemble compulsive hoarding rather than traditional collecting.
Junk removal has a couple cost variables. Ease of access, volume of material, weight, the local disposal rate, and other special considerations. This can vary widely and it's better to call each company to get a quote. Some projects are easily estimated over a brief phone call but other, more complicated projects will require photos or an on site quote. Alway get a quote before the work begins so there are no surprises. Ask the company if they have a price guarantee. Renting a dumpster to do it yourself may or may not be cheaper as some dumpster rental companies require a minimum of a few days rental and charge you a disposal fee plus a pickup fee, mileage fee, and a daily fee. If the cleanup needs to be done due to code enforcement you may consider a reputable lender who provides home improvement loans.
Where does RGV Hauling Junk & Moving take all that junk?
Donate, Recycle, Dispose. Sometimes we remove damaged furniture or old household items that are still serviceable. Items like this are candidates for donation. We deliver only items which will not create a problem for the donation location for. Too often we see people using donation centers as a dumping site and we do not want to be part of that problem. Some material is suitable for recycling, we make an effort to recycle as much material as possible to include, plastics, mattresses, paper, and more. And finally when there is no other course of action we dispose of the material at one of the local landfills.
Where can I take my junk?
Any of the major landfills or recycling centers in the Montgomery area take a variety of material just call ahead so you know you are going to the right place. Remember to borrow a truck from a friend, you don't want to be driving you personal vehicle into a landfill. RGV Hauling Junk & Moving use large trucks to deliver disposables and we routinely get stuck in the mud and on a weekly basis we are plugging holes on our tires after picking up nails at the dumping site. Landfills typically charge by the cubic yard or by weight and rarely help with the unloading of the items you are dropping off.
I see dumpsters everywhere. Can I just leave my old couch next to it so the trash truck can pick it up?
NO! That is called illegal dumping. The easiest way to get slapped with a minimum $500 fine and even criminal charges is to illegally dump trash, household items, or old furniture on someone else's property. We encourage everybody to report Illegal dumping as quickly as possible. Not only is it an environmental nightmare, but illegal dumping sends a signal to people that laws are not enforced in the area which fosters even more criminal activity.
Why won't my trash service pickup my old couch from the curb?
Handling trash and garbage is dangerous work, dealing with heavy equipment, hazardous materials and street traffic. Because of this most trash services have a strict policy, preventing the operators from getting out of the trucks and the equipment they use is not setup to handle large items so they require material to be the appropriate size to be lifted safely. If trash or junk is not inside the dumpster or is too large for their equipment, it does not get removed, and small items get blown away by the wind, and large items make great homes for animals.
The house next door has a dumpster outside can I throw my old couch or old tv inside?
No! That's illegal dumping your neighbor has rented that dumpster because they have a project that will fill it up. If you put material inside you are potentially forcing them to order another dumpster to make up the difference. There are fees for each time a dumpster is picked up which can be as high as $950 depending on the size of dumpster. Also, dumpster companies have strict regulations they must follow in regards to the material they allow to be removed. For instance furniture should never be placed in a food waste dumpster and food waste should never be placed with construction debris. And hazardous waste should never be placed in any dumpster. In some causes it is even more strict and can cause the dumpster company or your neighbor to be fined for not complying with waste handling regulations.
When to call the professionals?
A professional cleaning company should be called when you are unable to handle the removal, hualing, and/or disposal of the items that need to be removed. This could be a professional deep cleaning company to handle the scrubbing, dusting, carpet cleaning, and sanitizing. For larger projects like clearing out a garage, basement, or attic you may want to call a junk removal company to handle the removal and disposal of the items, if they are junk. There are junk haulers, junk removal companies, and municipal programs who pick up junk if it is already outside. These types of services will not sort through items with you to find things you want to keep and they won't wait for you to either. If you need a more personal service and one that will handle the entire project from start to finish and from inside to outside you will probably need a company like RGV Hauling Junk & Moving who not only handles to hualing, and disposal but will also help you sort through the items to insure your valuables are stored, donatables are delivered, and junk is disposed of.
When to call the professionals?
Every junk removal company handles the removal and disposal differently. RGV Hauling Junk & Moving has a simple process of donating, recycling, and disposing of the items we remove. While our team is removing items we first identify donatables, if items cannot be donated due to damage of the type of item then we try to recycle the item, if the item can not reasonably be recycled we dispose of the item. RGV Hauling Junk & Moving also offers to donate items in your name so you will receive any tax incentives if there are any.
How can RGV Hauling Junk & Moving help with Junk Removal?
RGV Hauling Junk & Moving offers junk removal services, but also works closely with deep cleaning services in the area. If items need to be sorted for disposal and storage we help with this too. We handle larger jobs such as hoarding cleanup and warehouse clean outs, so there is no limit to the amount of junk we can handle.
How Much Do Square Cows Cost?
Here's the deal. Everybody's stuff is different. Whether you're moving from a third floor apartment or a mansion in the hills, we're confident we can serve you. However, we need complete information. Therefore, we prefer to talk to you, possibly meet you, find out what you have and where it is and where it is going in order to give you a fair and accurate quote. This is part of our transparent disposition as a moving business. Once we see your stuff and your place, we will give you a quote and that is what you pay. See our No Hidden Fees section for more info.
How Much Does Junk Removal Cost?
Do you feel like you are drowning in junk? If so, hiring a junk removal service can be a life-changing move. Junk removal services are available for almost any circumstance. Call for pro help after you have cleaned out your garage or shed, when you have moved in with your significant other and need to get rid of extra furniture, after you have emptied out the house of a relative who has passed away, or even just after an especially vigorous spring cleaning. Junk removal pros are equipped to handle any situation — big or small, hazardous or not — and do so without passing judgment, because accumulating a lot of junk can cause major stress. Junk removal is available for more than just hauling away concrete blocks from construction sites or removing trash. Apartment dwellers, homeowners, property investors, small-business owners, general contractors and many more types of customers call for help from junk removal services — whether you have a truckload of waste to remove or just a few boxes or bags.
When you call a junk removal service, they may ask for photos of the items you want removed, or may do a site visit to provide you with a quote for services. Once they have determined the type and size of the junk you need taken away, they can quote you cost and time frame. On the designated day of the cleanup, the junk removal pros will arrive wearing any necessary protective gear, such as gloves and eye protection, and will bring any heavy equipment required to move the junk out. Sometimes they will need a mini excavator or skid-steer loader like a Bobcat to remove debris from your property. Other times junk can be hand-tossed into the back of their truck or trailer. Depending on how much junk you have, they may arrive with a pickup truck, a trailer, a dump truck or a flatbed trailer to get your junk out of the way. What you are disposing of will affect your junk removal costs, because after the pros take it off your hands, they will properly dispose of it in the appropriate landfill or government regulated depository. There is often a disposal fee for dumping materials, so the weight and bulk of your junk and the cost the pro must pay to dump it will be factored into the junk removal pricing.
How much does junk removal cost?
How much does junk removal cost?
A typical junk removal service will charge by the truck load and by the hour for (for manual labor). Junk removal costs will always vary depending on how much junk has to be removed from the premises. Contact RGV Hauling Junk & Moving for a quote on how much your junk removal project will cost.
Will your junk removal company throw all of my stuff away?
While RGV Hauling Junk & Moving is similar to most junk removal companies in how effective we perform our service, our certified technicians will go the extra mile for your project. Our staff is trained to set aside items that may be of value. Once these items are identified, the rest of your junk will be safely hauled away.
What do I do with items I do not want to keep, but I also do not want to throw away?
Along with providing our customers with optimum service, RGV Hauling Junk & Moving is also a big supporter of donating unwanted items and will assist you with finding a not-for-profit service who will make sure people in need will benefit from your unwanted items.
If you would like to sell some of your items, our technicians can also refer you to local consignment shops and auctions to help you make a few extra dollars on the hidden treasures found in your junk.
What if your trucks cannot fit in my small residential area?
RGV Hauling Junk & Moving' fleet of vehicles range in size and function. We will always have a vehicle equipped to handle your project no matter how big or small your property is. Unmarked trucks are available upon request to maintain confidentiality of your junk removal project.
Do I have to do any of the lifting myself?
No. RGV Hauling Junk & Moving will provide your project with as many capable technicians necessary to complete your junk removal job with ease.
What kind of junk will you remove?
RGV Hauling Junk & Moving' highly trained staff can handle the disposal of items that vary in size and weight. We will remove:
Appliances (i.e. refrigerators, stoves, dishwashers, washers, dryers, etc.)
Hot water heaters
HVAC units (i.e. heaters, air conditioners)
Vehicles
Vehicle parts
Furniture
Trash
And much more!
Do you perform background checks on your employees?
Yes. All of our techs undergo rigorous background evaluations before being hired with RGV Hauling Junk & Moving. It is important that you feel comfortable with and confident in our staff during your junk removal project.
Is RGV Hauling Junk & Moving insured and bonded?
Yes. RGV Hauling Junk & Moving and our employees are fully insured, granting you peace of mind during your junk removal project. A listing of certifications and insurance is available upon request.
For more information about RGV Hauling Junk & Moving, hoarding clean-up and other clean up services we provide, please call us at the phone number at the top of the page, 24 hours a day, 7 days a week, or fill out our contact form.
How does junk removal pricing work?
Junk removal pricing is determined based on the volume of space your items take up in the back of our truck. Depending on the amount you would like us to haul, you could fall within several price points. If you aren't sure how much space your items will take up, give RGV Hauling Junk & Moving a call at (956) 587 3487. We'd be happy to provide you with a free estimate!
How can I get a quote on my junk removal project?
You will receive a free, no-obligation quote once we arrive at your residence. If you would like to be provided with an estimate before you schedule your junk removal appointment, simply call one of our call center representations at (956) 587 3487. However, we cannot provide you with a quote until we assess your items in person.
How soon can I book a junk removal appointment?
If you need junk removal quickly, give us a call at (956) 587 3487 or use our "Book Now" tool online. If you speak with one of our call center representatives, they will be able to inform you of the earliest availability to schedule your junk removal appointment. RGV Hauling Junk & Moving offers same-day and next-day appointments, so we can accommodate even the busiest of schedules. You can easily schedule junk removal with RGV Hauling Junk & Moving with just a call.
How can I pay for junk removal?
Accepted methods of payment for your junk removal service include cash, credit, debit, or check. However you choose to pay, payment is required upon completion of our services.
How big are your junk removal trucks?
Our junk removal dump trucks have the following measurements: 10ft long, 8ft wide, and 5ft high. So, one load from our trucks is equivalent to six pickup trucks.
Can you complete full-house clean outs?
We work hard to accommodate every job, large or small. To schedule a full house cleanout, give us a call and we'll find an available time. Depending on the size of your home, the time it takes to complete a full house cleanout will vary.
What areas does RGV Hauling Junk & Moving service?
RGV Hauling Junk & Moving is a team of trained junk removal experts operating in McAllen, TX . Some of our major service areas include Omaha. For a complete list of service areas, check or service area page!
Is a junk removal quote free?
When you receive a quote from RGV Hauling Junk & Moving, it is always free. There is also no-obligation attached, so whenever you receive a quote from us, you are always able to decline our services if you aren't satisfied with our pricing.
Will my junk removal items be accepted?
We accept most household items, however there are some things that we are not able to haul. For a list of junk removal items we do and do not accept, click here. If you don't see the items you would like removed on this list, give RGV Hauling Junk & Moving a call at (956) 587 3487. We'd be happy to answer any questions you have about the items we haul.
Is RGV Hauling Junk & Moving available on weekends?
RGV Hauling Junk & Moving is available from 8am-9pm on Monday through Sunday. If you need to contact us outside of these hours, click here. We'll get back to you as soon as possible.
Do you offer dumpster rentals?
RGV Hauling Junk & Moving does not provide dumpster rental services. As a full-service junk removal business, we lift, haul, and dispose of your unwanted items for you. We also provide deconstruction services and concrete removal. With a dumpster, you are required to handle all labor. As well, hauling heavy household items can result in personal injury or damage to your property. With professional junk removal, you have a safe and comprehensive solution to decluttering.
RGV Hauling Junk & Moving – FAQ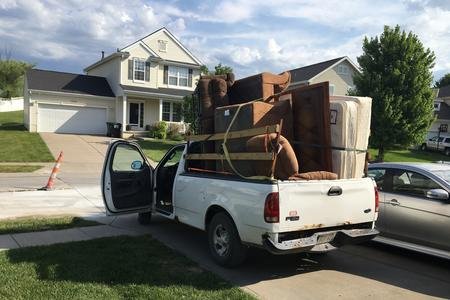 What items do you remove?
We remove almost anything including furniture, appliances, mattresses, electronics, household items, clothing, fixtures, lighting, old tools, wood, scrap metal, yard debris, construction debris, dirt, concrete, brick, spas, fencing, sheds, play structures, exercise equipment, carpets, car batteries, tires, toys, and more.
Are there any items you do not remove?
Yes, we do not haul away any toxic or hazardous items such as paints, oils, pesticides, household batteries, fluorescent light bulbs, household cleaners, medicines, ammunition, fireworks, any items containing asbestos or any other harmful material.
Do the items have to be on the curb for pick up?
No, we will remove the items from wherever they are located in your home or business.
What areas do you service?
We service the city of McAllen TX.
What are your hours of operation?
Monday through Sunday  we are open 7am to 11pm. Saturday and Sunday we are open.
How do you charge?
We typically charge by volume, meaning how much your items fill our truck. For jobs that are more labor intensive such as the removal of dirt, concrete, bricks, etc. we may charge by the hour due to the extra labor needed to remove your items / debris.
How big are your trucks?
We have large dump trucks. The box on the truck where the items are held is 12' long x 7' wide x 5' high (420 cubic feet). We can accommodate taller items than 5' since we have a tarp that goes over the top of the load.
What is the maximum weight your trucks hold?
The maximum weight that our trucks can carry is 3 tons.
Does your truck fit down narrow driveways or allies? What about underground parking structures?
The outer width of our trucks is approximately 9' wide so it fits down most narrow driveways. Unfortunately our trucks rarely fit in underground parking structures – the clearance we need for the trucks is approximately 10' high.
Do you recycle and donate items?
Yes, if items are in good condition we will donate them to local charities. We also recycle items such as metal, cardboard, and other items/debris.
RGV HAULING JUNK & MOVING
REQUEST FREE INFORMATION NOW. CLICK HERE!