Kitchen Demolition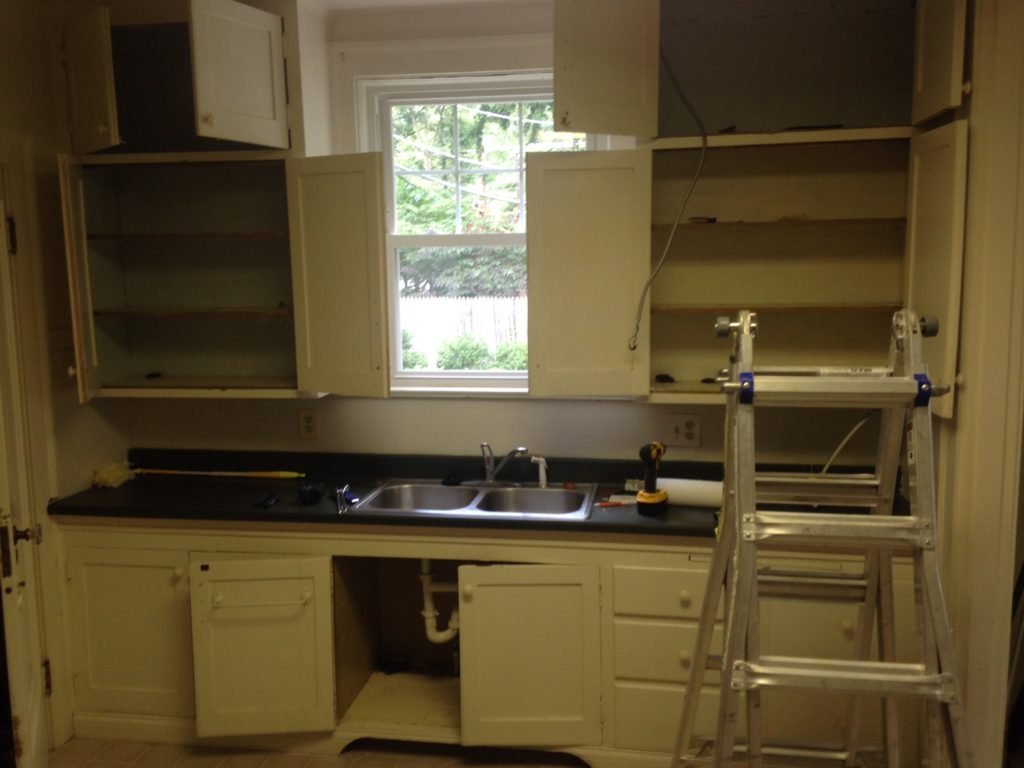 BEST KITCHEN DEMOLITION SERVICE IN MCALLEN TX
MCALLEN KITCHEN DEMOLITION
Kitchen Demolition
Kitchen Demolition Service near McAllen TX: One of the common mistakes you might make as a homeowner is trying to take on kitchen or bathroom demolition projects in your home or business on your own. You believe you are saving money, but without qualified remodeling experience and the right tools, doing your own demolition can result in unnecessary delays that end up costing you more in the long run.
Proper kitchen demolition takes a certain level of skill and knowledge to complete correctly. Not to mention, it can be physically taxing and creates a large mess.
Utilizing our skill and experience, our team at RGV HAULING JUNK & MOVING will perform bathroom or kitchen demolition in the exact places you need it, leaving the major structural pieces in place. Once the work is completed, we clean the area to remove dust and debris, leaving a clear space where your renovations can take place.
The Dangers Of Non-professional Kitchen Demolition
Some of the issues that can arise as the result of an inexperienced demolition crew working on your home or business flooring can include:
Removal of areas that should not be demolished
Damage to pipes and wiring
Injury to homeowner or contractor
Delays caused by demolition of pipes or wiring
Buildup of debris in your home
These risks are increased if you live in an older or historical home. By examining the kitchen or bathroom structure and the plans you have for renovation, we can help get rid of the parts you need removed without damaging anything else.
How We Protect Your Property During & After Demolition
Kitchen Demolition Service near McAllen TX: Demolition of a kitchen can be a messy process, so it's important to hire a service that actively tries to help you keep your property clean. We protect your property in multiple ways, including taking precautions before we work on the demolition, such as:
Bringing Aluminum Ramps: to prevent damage as we bring heavy equipment into your home or business.
Stopping the Spread of Dust: utilizing plastic sheets and painters tape to cover the areas outside of the work area.
Using Vacuums and Air Scrubbers: to prevent dust particles from spreading and recirculating in your indoor air.
Our process is also free of chemicals that can be harmful to your health. All of our removal is done with machinery, specialized tools and skill to ensure your family or customers are not subjected to the harsh fumes chemical solvents emit.
With a fleet of removal trucks that we use for our flooring removal work, we can make sure that the debris does not pile up in your home or on your curb. As soon as the demolition work is complete, we will load up any waste into one of our trucks and take it away for recycling.
Do You Need Kitchen Demolition?
With several decades of experience working in homes and businesses,RGV HAULING JUNK & MOVING knows exactly how to handle bathroom and kitchen demolition in the time frame you need it completed. We can send a full crew to ensure that your work is completed quickly and there are no delays in your renovation.
Our licensed and insured crews work on residential and commercial spaces all over McAllen TX. Contact us today to schedule your in-home estimate for kitchen demolition services!
RGV HAULING JUNK & MOVING Demolition Company
Kitchen Demolition Service near McAllen TX: Demolition Services in McAllen TX.At RGV HAULING JUNK & MOVING, a wide variety of demolition and rubbish removal services are provided. There are many ways to demolish a home structure, and our RGV HAULING JUNK & MOVING demolition company is experienced in all types of home demolitions. We are skilled in the right way to do a demolition project. With our expert demolition teams, quality work, excellent customer service, time efficiency and cost efficiency is assured. We can make sure everything is done up to code and safety standards by law, and promise to make the whole process as easy for you as possible.
From pre-remodeling, to full on addition clearing we can make sure your demo job is done correctly, cleanly, and safely. Give your McAllen TX general contractor at RGV HAULING JUNK & MOVING a call today.
Demolition Specialists for McAllen TX Homeowners
Kitchen Demolition Service near McAllen TX: As the demolition industry is an intensely specialized field, choosing the right McAllen TX demolition company for your project is very important. If you are looking for someone to take care of demolishing or removing your McAllen TX floors and slabs, you can trust RGV HAULING JUNK & MOVING Our demolition contractors get the job done right with your complete satisfaction of our services.
Our McAllen TX Demolition Contractors Provide:
House Demolition
Home Renovations
Concrete Demolition
Demolition Work
Home Remodeling
Concrete Removal
Home Demolition
Straightforward Kitchen Demolition Tips
Kitchen Demolition Service near McAllen TX: Starting to feel like the heart of your home is more Kitchen Nightmares than Martha Stewart? Creating your dream kitchen starts with getting rid of the less-dreamy stuff you're currently stuck with.
Even if you're hiring contractors to handle the remodel, making your kitchen demolition a DIY job is a great way to keep more money in your project budget. And just about any homeowner can do it. The job doesn't require any specialized skills and you probably already own all the tools you need. Read on to learn how to demo a kitchen yourself.
What Does Kitchen Demolition Cost?
Hiring professionals for your kitchen demolition costs between $500 and $750 on average. But that number can easily run as high as $1000 if you have a large kitchen or are demolishing down to the studs.
For a DIY, assuming you've got a basic tool box on hand, the only expense is debris removal (we'll talk more about this in the prep stage below). This means gutting your kitchen yourself can save hundreds in your remodel budget.
Rent a Dumpster
Before you get to work, rent a home dumpster to clean up as you go. Between your appliances, cabinets, countertops, flooring and backsplash, gutting a kitchen will leave you with plenty of debris that your trash service won't take at the curb. So, if you're not up for hauling it to the dump yourself, a dumpster is the best solution.
Clean Out Keep Items
Box up dishes, cookware, dish cloths and anything else you plan to re-home in your brand-new kitchen. Store them in another room where there's no danger of being damaged when the hammers start swinging. This step also gives you the perfect opportunity to declutter and get organized.
Shut Off Utilities
It's not safe to demo a kitchen while the utilities are still on.
Turn off power to the kitchen by flipping the appropriate switch in your breaker box. There's usually a circuit map showing which switch controls the kitchen, but if not, just use trial-and-error.
To turn off water to your kitchen:
Look under your sink and find the two pipes running from the sink through the back wall or into the floor. These are your hot and cold water lines.
Trace each line to the wall or floor, looking for a knob or lever.
Twist the knobs or levers clockwise to shut off the water.
Turn on both taps to make sure the water is off and to drain any water stuck in the P-trap.
If there aren't knobs or levers under your sink, you can follow the lines into your basement or shut off water to the whole house at your main supply valve. This is usually located either in your garage or near your front water hose.
To turn off gas to your stove:
Pull the stove away from the wall and find the gas valve, which is usually a lever-style handle.
Turn the lever until it no longer moves – usually a one-quarter turn.
Switch on the burners to ensure that the gas is now off. If you can't turn or can't find the lever, call your gas company to shut off the supply. DO NOT try to force a stuck lever.
Remove Appliances
If you're upgrading to new models, you can toss them in your dumpster or check out our appliance disposal guide for other options, including the best places to donate them if they're in good condition.
Store any appliances you plan to keep somewhere they won't be in the way when demolition work begins.
Important Safety Tip: Never remove a stove without shutting off the gas first. You risk starting a fire or even causing an explosion.
Kitchen Demolition Cost
Kitchen Demolition Service near McAllen TX: Understanding your kitchen renovation budget is key to a successful project, and a main part of that budget is the cost of kitchen demolition.
There are a few different ways to estimate how much your kitchen demolition will cost, and we'll go over them one-by-one.
Chimney
The price of chimney removal falls within the $4,000 and $10,000 range. The final project cost depends upon several factors, including whether it extends into the basement, or whether it is bolted onto or built into the structure. Be prepared to pay additional fees to repair any roof damage that may occur during the chimney's removal.
Demolition costs involved with kitchen renovation
You can estimate how much your kitchen demolition will cost by 1) determining the work you need done, and 2) tallying up the average cost to do each job.
This allows a relatively accurate estimation for how much your kitchen demolition will cost, regardless of the amount of remodeling you plan to do.
Average Kitchen Demolition Costs
Demolition Job                   Low-End Cost          Average Cost           High-End Cost
Kitchen Cabinet Removal $100 – $200             $200 – $300             $300 – $400
Countertop Removal         $50 – $100                $100 – $150             $150 – $200
For example, if you just want to replace the cabinets and countertop, expect to pay between $150 and $600 to have them removed.
If you plan on doing a complete kitchen gut and remodel, expect to pay between $320 and $1,390 for just the demolition.
Hourly rates for kitchen demolition
Some contractors may choose to price the work based on the amount of time it takes them to get it done, rather than by the specific work they're doing.
On average, it takes between 10-20 man hours to completely gut a kitchen.
How long your kitchen demolition takes depends largely on the size of the kitchen and the types of materials involved.
If asbestos or lead is present, it needs to be carefully handled and disposed of properly, which takes time.
If any unforeseen complications arise, like hazardous materials, your timeline will be extended.
Let's look more closely at an example of how a company might charge by the hour for the work they do and how to determine if it's a good price.
Say you have a 10 ft. x 10 ft. kitchen you want completely gutted out…
The contractor informs you that they can have 2 workers on-site to perform the demolition himself and one other worker and that he predicts they can have the job completed within one day.
The contractor also tells you he charges $30/hour for interior demolition.
Knowing how long a complete kitchen gut-out typically takes (between 10 – 20 hours), and that there will be 2 workers handling the demolition, you can estimate that the work will be done within 8 hours or so.
From there, you can deduct that your kitchen demolition would cost around $480 if you hire this contractor. This is within the lower-end range for the average cost of kitchen demolition and would be a fair price.
Choose the right kitchen demolition contractor
Once you've gathered all the necessary information for your kitchen demolition, go to HometownDemolitionContractors.com to find highly qualified local demolition contractors.
We generally recommend getting quotes from a minimum of 2 – 3 contractors, but the more contractors you get quotes from, the better.
Cost to Demo Kitchen Cabinets
Kitchen cabinet removal costs $150 to $1,000. This price only covers the cabinets. Pros bill for flooring, walls, ceiling and appliances separately. If they're in good condition, you can recoup some of the expense by donating or selling the old cabinetry.
Brick Fireplace & Chimney Removal Cost
Brick fireplace and chimney removal costs $100 to $10,000. Expect to pay $4 to $6 per square foot plus $500+ to have it hauled away.
FREQUENTLY ASKED QUESTIONS
 Do you design my kitchen for free?
We currently offer free design services. We do ask that customers view our design process and gather some of the information we suggest you have prior to meeting with one of our salespeople. Then visit any of our stores (appointments are suggested) and our salespeople will help you design the kitchen or bath of your dreams.
Do you come to my home to measure my kitchen?
Our first meeting will be in our showroom. After our initial design meeting in the showroom, your designer will likely come to your home and take measurements of the space we are working in. In addition to taking measurements, our designers want to understand the space and how your family wants to use the space. Coming to your home is an important part of that process.
How much does my kitchen cost?
Kitchens can cost anywhere between $3,000 and $50,000+. Several things determine the price of a kitchen, including the size, type of cabinets, countertops, and accessories that you pick. Norfolk Kitchen and Bath is proud to offer products that fit into every different price point and look forward to understanding your budget and offering you the right products at the best prices.
How long does it take to get a design & price?
If you are looking for a quote on stock cabinetry we can give you a quote right away. If you are looking for special order goods or the design is more complicated than a basic kitchen it can take a couple weeks to complete a design and get you a price. Sometimes it takes even longer as we often redesign several times for our clients until they have exactly what they want.
What type of payments do you take?
We accept cash, check, and all major credit cards.
Kitchen Demolition Service Near McAllen TX
Kitchen Demolition Cost
How To Prepare For Kitchen Demolition
Kitchen Demolition
Kitchen Demolition Contractors
Kitchen Demolition Tools
Kitchen Cabinets McAllen TX
Kitchen Remodel
Cost To Demo Kitchen Countertops
How Much To Charge For Demolition Work
Cost To Demo Kitchen Cabinets
Interior Demolition Cost Calculator
Kitchen Remodel Cost
Kitchen Demolition Contractors
How To Prepare For Kitchen Demolition McAllen TX
Alamo TX Kitchen Demolition near me
Alton TX Kitchen Demolition near me
Brownsville TX Kitchen Demolition near me
Donna TX Kitchen Demolition near me
Edcouch TX Kitchen Demolition near me
Edinburg TX Kitchen Demolition near me
Elsa TX Kitchen Demolition near me
Granjeno TX Kitchen Demolition near me
Harlingen TX Kitchen Demolition near me
Hidalgo TX Kitchen Demolition near me
La Joya TX Kitchen Demolition near me
La Villa TX Kitchen Demolition near me
McAllen TX  Kitchen Demolition near me
Mercedes TX Kitchen Demolition near me
Mission TX Kitchen Demolition near me
Rio Grande City TX Kitchen Demolition near me
Raymondville TX Kitchen Demolition near me
Palmhurst TX Kitchen Demolition near me
Palmview TX Kitchen Demolition near me
Penitas TX Kitchen Demolition near me
Pharr TX Kitchen Demolition near me
Progreso TX Kitchen Demolition near me
Progreso Lakes TX Kitchen Demolition near me
San Juan TX Kitchen Demolition near me
Sullivan City TX Kitchen Demolition near me
Weslaco TX Kitchen Demolition near me​
RGV HAULING JUNK & MOVING
REQUEST FREE INFORMATION NOW. CLICK HERE!